Betraying his deeply held belief that the Appalachian Trail is not a racetrack, a seasoned hiker faces off against a self-serving celebrity athlete, a woman track star who knows them both, and hundreds of other registered contestants, in a fierce competition to traverse the entire woodland journey in the fastest possible time. Each vying to win the one million dollars in prize money, they must race across a rugged landscape, exert every ounce of strength, and reexamine their values; inevitably gaining a new appreciation for one of America's greatest national treasures.
Prepare to experience the trail like never before with this exciting and heartfelt novel. 59k words.
"In only 232 pages, Ricciardi takes the reader through a wonderful journey of beauty, heartache, and ultimately elation in a myriad of twists and turns that can only be found on the iconic Appalachian Trail. The Great Appalachian Trail Race is his first book of this kind. And he knocked it out of the park."

www.trailandultrarunning.com

THE GREAT APPALACHIAN TRAIL RACE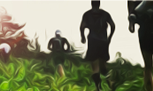 AVAILABLE IN:
HARD BACK
SOFT COVER
NOOK
&
KINDLE
Written by Charles Ricciardi